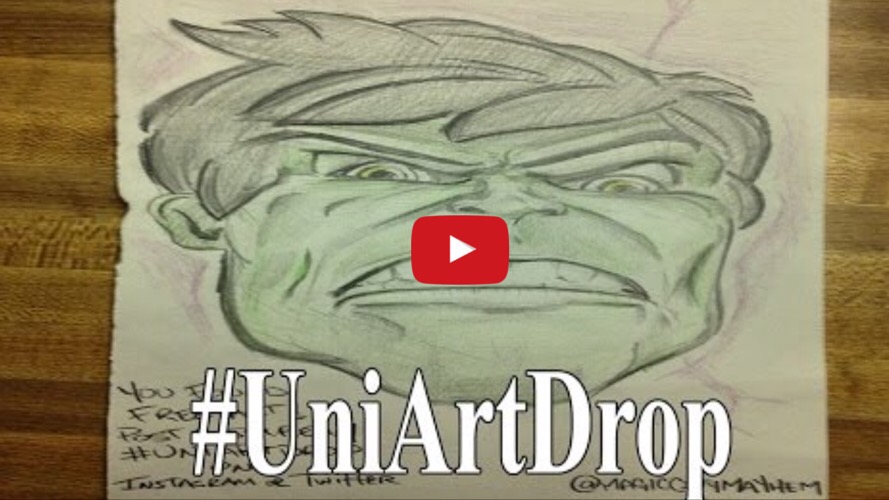 The first Tuesday in the month of September is "Art Drop Day". It's an official thing! You can totally Google it! If you don't want to Google it, I'll give you a quick description.
All over the world, artists everywhere will hide pieces of art in random areas in hopes for people to stumble upon them and "claim" them. Some people will just place them without any hints while others, like myself, will hide them and then give clues on where to find the art on social media. I will also include my own Twitter handle and custom hashtag on the artwork in hopes that whoever finds it will either tag me or post a selfie with the art and include the hashtag.
Before I knew there was an official Art Drop Day, I was hiding artwork around the Universal Orlando theme parks. I'd to create something relevant to the parks and put the hashtag #UniArtDrop and include a note asking whoever found the piece to post a selfie with it on either Twitter and/or Instagram.
This Tuesday I will once again be participating in this annual event. Be sure to follow Magic City Mayhem on all social media outlets and look out for clues on where I'm hiding artwork! Below you'll find a video we made from last year's event. Also included in the video is a Rock The Universe 2016 prep update, HHN 26 prep update, a quick tour of the Margaritaville gift shop, and a "hidden" owl that lives in Citywalk. Happy hunting if you're looking for art drops on Tuesday!
Catchy catchphrase!
Mikey