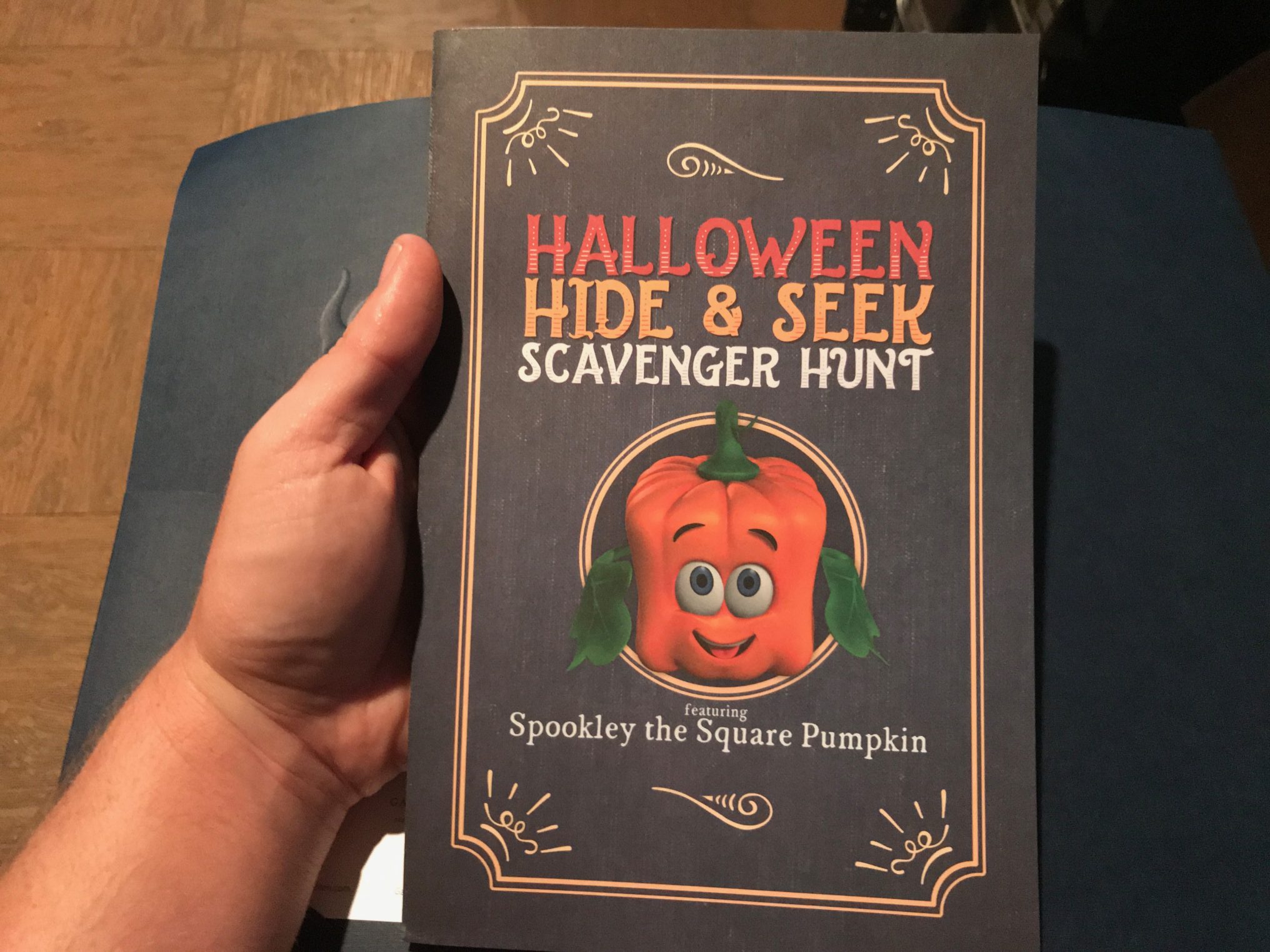 The Gaylord Palms Resort is hosting a really fun Halloween event taking place on the weekends through the end of October. Even though it's geared towards guests of the resort, some of the Goblins & Giggles activities are available for non-resort guests to enjoy the activities. We got to check it out a couple weekends ago and had an awesome time!
The main draw for us was a Halloween hide & seek scavenger hunt featuring Spookley the Square Pumpkin. Harry has been a fan of Spookley since before he turned 1. You get a book with riddles and clues to find Spookleys "hidden" around the atrium. It was super fun! There's also a story time with a live reading of the Spookley book, and a showing of the animated film on the poolside theater screen on select nights.
We also did the "Swamp Witch Escape Ghost Tour". They give you flashlights and you follow a tour guide around the atrium as she tells you a story about Bessie Budd-Graham, the swamp witch of Tallahassee. You eventually wind up in her lair and it's like an escape room where you have to find clues in order to escape. I've never done an escape room before and I had a blast doing this! I don't want to reveal too much about it, but our tour guide was really helpful figuring out the clues and you just might encounter the Swamp Witch herself!
Other activities include the Monster Mash Bash where you can BOO-gie on down! There will be a costume contest so come dressed up! There's also spooky fun to be had poolside at Gaylord Palm's FlowRide - The Wake Zone, featuring games and a showcase of resident flow boarder's skills! Trick or treating and Haunted House Decorating (think gingerbread houses) round out the fun for the whole family!
The best way to experience the Halloween fun at Gaylord Palms is by booking a Goblins & Giggles Getaway Weekend package. Starting at $189 a night, packages include accommodations, tickets for the dance party, trick or treating, the Spookley scavenger hunt. Some activities like the poolside stuff are only available to overnight guests. For more information, please visit GaylordPalms.com/Getaways
I hope Spookley becomes a mainstay at this event and he returns next year! Hopefully with some sort of meet and greet! Wishful thinking, I know. We went in the evening a little before Harry's bedtime so it was a little challenging snapping photos and shooting video, but I tried. Check out some of the photos below and hopefully I will have a video ready soon!
Happy Halloween!