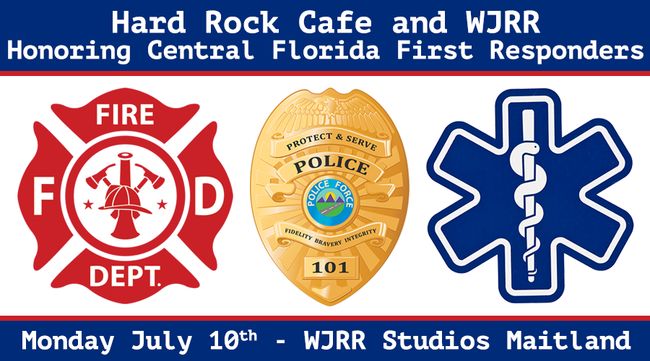 Free Lunch For First Responders
October 28 might officially be "First Responders Day", but Hard Rock Orlando and WJRR, "Orlando's Rock Station", are honoring these brave service people on Monday! From 11:30am-1:30pm in the parking lot of the radio station (2500 Maitland Center Parkway), active police, firefighters, and EMTS are welcome to stop by for lunch! They are encouraged to bring their work vehicles with their whole crew, but flashing a badge will be enough for lunch. The first 101 people to come by (WJRR's station number is 101.1), will receive a $10 gift card for Academy Sports and Outdoors! Hard Rock will also have food items for sale for anybody else who is out in the Maitland area and is looking for something different for lunch on a Monday.
Thank you to all the hard working police, fire fighters, and EMTs of Central Florida! Go get yourself some lunch on Hard Rock and WJRR! I hear they may also have a bunch of pretty sweet WJRR magnets for your car! If you go, take a picture with the big Vulture (VulJRR), and tell them Mikey sent ya!