The Wizarding World and Hogsmeade Opens 8 Years Ago Today
I remember it well. We woke up very early that morning to witness history. The Wizarding World of Harry Potter was finally going to grand open! After about a month of trying to gain access during elusive "soft openings", today marked the day that everyone could go at anytime they wanted. Well, if you were there that particular day, or even a couple weeks following, you might've been able to get in. You see, everyone wanted to visit Harry Potter's new "theme park". And I mean EVERYONE. We were lucky that day. We got there early enough to get a spot in line that would've guaranteed us entry into Hogsmeade. Unlike the tens of thousands of fans that lined up behind. They had a chance of possibly not getting inside the Wizarding World. The line stretched all the way from inside the park and out through Citywalk! Wrapping around both sides of the lagoon, it was truly an amazing sight to behold.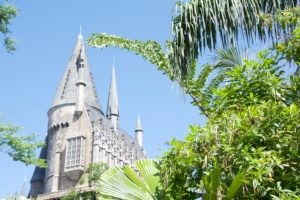 Doing It For Nostalgia
Lauren and I lucked out and were able to get sneak previews of Hogsmeade before that day. We had to be persistent, there were a few times we heard it was open for softs only to show up and it was closed. You can find a few videos of my failed attempts on Magic City Mayhem's YouTube page. The series was called "Mikey and the Forbidden Preview". But finally one day, that preview happened for us...
That Happened
So you'd think to celebrate opening day; we'd show up early, get in line, go in Hogsmeade, grab a Butterbeer, and dance in the streets with all of our fellow Potter-heads, right?
Nope.
Not quite.
We did show up early. And we did have a pretty good spot in line. But about 20-30 minutes before they started to let the crowd in, we got out of line. I was reading on Twitter about the madness that was going on behind us. That it was spilling out to Citywalk and I just had to capture it on video. I knew we'd be back to Hogsmeade a million times after that day, and we weren't quite close enough to see the actual grand opening ceremony, so we left the line to witness first hand all the pandemonium!
Harry Potter Madness
I've never seen anything like that in my life. People told us they waited at least 7 hours just to get inside that part of the park. And then you had to wait more if you wanted to experience "Harry Potter and the Forbidden Journey" which was the ride inside of Hogwarts. We were already starting to hear rumblings that there might be an expansion, but most people thought it would take over more of the Lost Continent. Little did we know that very soon Universal would announce the closure of the Jaws ride and more Potter would come to Universal Studios Florida.
Were you there that day in 2010 to experience those grand opening crowds? When was your first visit to Hogsmeade? Did you need to get one of those paper return tickets to gain access? Good times! Here are a couple more videos from that day. See you in the parks!
For more Wizarding World fun, check out this post to see what Hogsmeade looks like during the holidays! Click HERE!