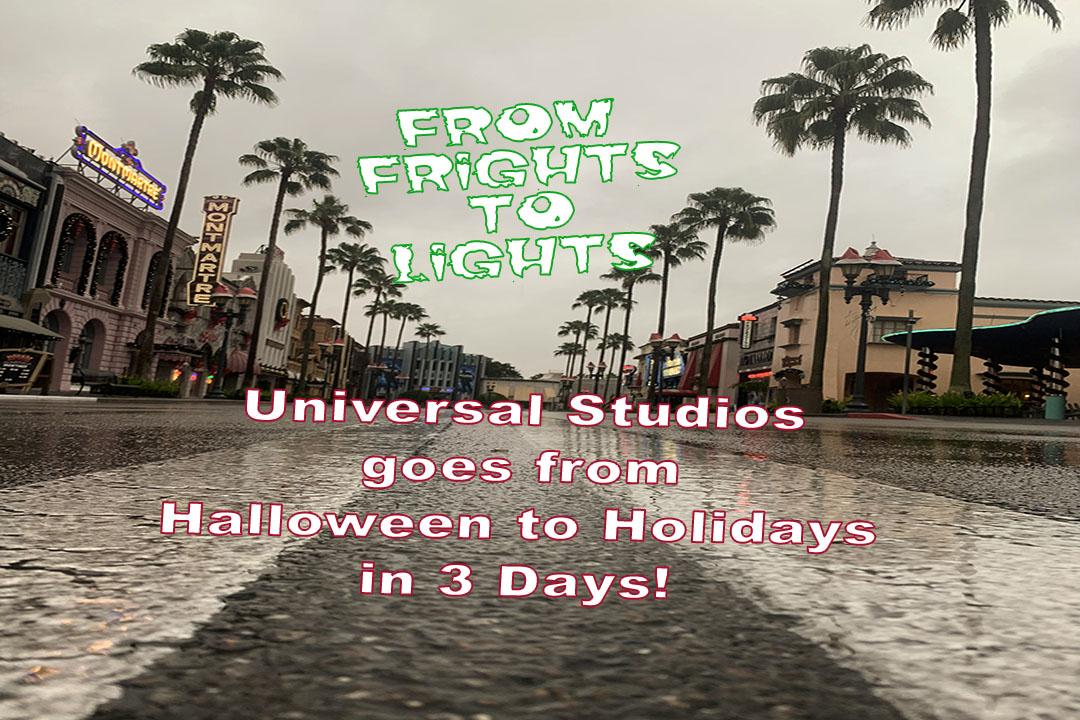 It was 1am on November 1st when I decided to say goodbye to Halloween Horror Nights 30. I had just watched my favorite cast of Eddie's Revenge walk off stage for the last time and I was kinda emotionally spent. So obviously, I thought the best idea would be to go right back to Universal Studios Florida the very next morning when it opened.
The first thing I noticed was how the windows of the Universal Studios Store were already changed over from HHN to Grinchmas. That should've been the indicator of how much HHN would be gone and Christmas would be in its place.
The next thing I saw was the bare arches. All HHN 30 related signage was removed from the entrance area of the park. In addition to that, all of the scarecrow stalks were removed from all retail locations, and a good chunk of scarezone strike was started.
From Monday to Friday, the Hollywood Blvd section of the park saw the most drastic transformation from HHN to Holidays in the shortest amount of time. The New York section would be next, but props from Seek and Destroy were out a couple days longer than Eddie's. The last two props removed from guest view was the tall neon sign in 30 Years and the Terra Throne from Gorewood. I didn't go to the park this morning (or tomorrow), but I saw that the tree has gone up overnight in New York (from Friday to Saturday). Check out HHNstagram and Magic City Mayhem on Twitter to see all the updates from this last week. I will resume my morning visits on Monday and hope to start live streaming them on YouTube. As soon as I get a gimbal, that will happen! Enjoy the video below where you can see the Hollywood transformation, including cast A from Eddie's Revenge walking off set for the last time!
Thank you for reading, liking, subscribing, retweeting and sharing Magic City Mayhem. If you'd like to show me a little more support, check out my shop at Mayhem Made 'Em or consider donating to my Ko-Fi below. Thank you so much and look for new content very soon! -Mikey