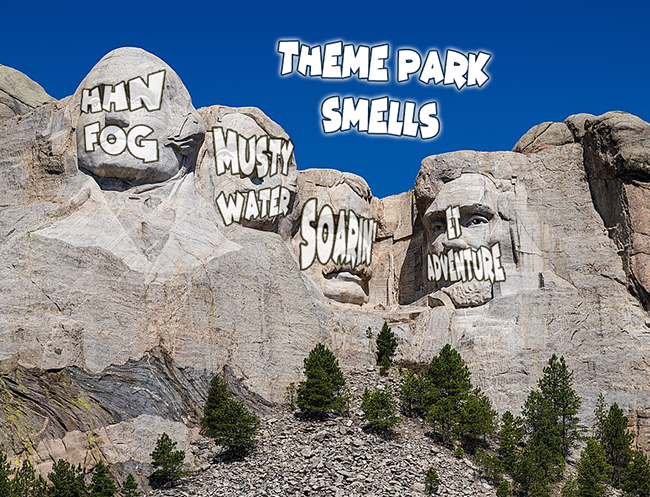 Everyone has a favorite theme park smell. An aroma that if it sneaks in your nostrils when you're away from the parks, it instantly transports you right back to that magical place. An accent so sweet, that you seek it out when you're on property. Can you pick four of those as your favorite of all-time and put them on the side of a mountain for all to see? I recently asked theme park twitter this question, and as expected, I got many of the usual suspects. How many of these responses match yours? Do you have any different ones? I wanna know!
ET Musk
Spaceship Earth Musk
Simpsons Ride Baby Powder
Dinosaur Hydraulics/Fog Mixture https://t.co/KXjf30KShW

— Ant 💖 Mario Movie (@galaxarium) April 15, 2023
FOG
Musty POTC Water
Texas Chainsaw Rotting Carcass
Icons Caretaker Room Rose

Honorable mention to the smell of every candy shop ever https://t.co/pbz1WN2vQ0

— 🔮Starlight🪄 (@saturdaystarlit) April 15, 2023
HHN house smell
Flight of Passage smell
Caribbean Beach lobby smell
The baguette smell on Ratatouille Adventure https://t.co/KeyJjR9bnO pic.twitter.com/QWOSa67NLz

— Geo Zaroff (@GeoZaroff) April 15, 2023
The entirety of Flight of Passage
HHN FOG
Rome is Burning
ET (haven't been since they changed it, so maybe not anymore) https://t.co/KuWcszYcvz

— Slaycey 💕🌠 (@StaceyRenee729) April 16, 2023
✨Horizons Oranges (Did it better than Soarin and did it FIRST. Fight me!)
✨GMR Alien scene combo of Vaseline and CO2 Fog
✨Epic Explosive Scene 3 Desert Chase Finale Fire Smell
✨Jaws Ride vegetable based hydraulic fluid
✨Poseidon Water Tunnel Humid Chlorine Musk https://t.co/ZUb0rU3bJN

— A Demon Mutant and Proud (@WerewolfExec) April 16, 2023
-the combination of the fresh wood, wet wood, paint, artificial and natural funky aromas and gasoline. also known as "sadistic wonderment".
- I enjoy the skunk smell in imagination
- karamell küche
- ET, I guess https://t.co/INW28mSBR1

— Mayhem (@HHNstagram) April 15, 2023
Post your responses in the comments of this post on Facebook! I want to know, what you're smelling!
- Mikey